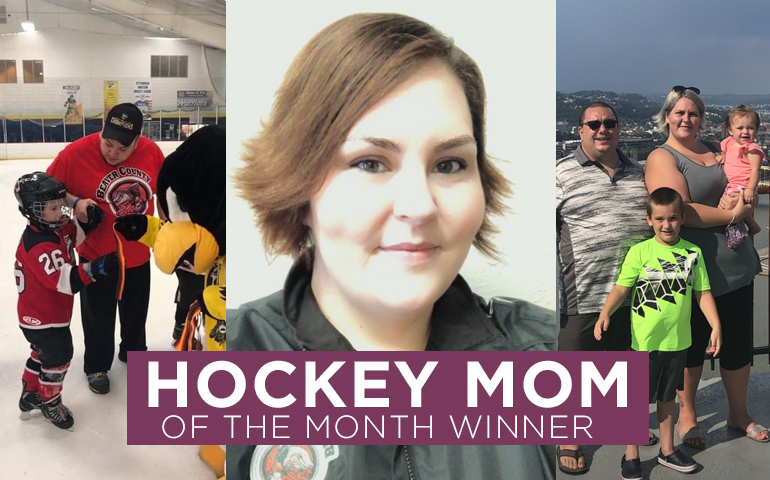 Congratulations to our late April Hockey Mom Winner!
Congratulations to the second April Hockey Mom winner, Lora Clewes, from New Brighton Township. Lora, mom to Benson (8 years old) and Evelyn (2 years old), is the Vice President of the Beaver County Ice Sharks Special Hockey Association. The Ice Sharks is a hockey team for special needs children over the age of 5 years old with a disability.


As Vice President for the team, Lora is a fundraising whiz! From applying for grants and donations to holding several fundraisers per year, Lora is consistently thinking of new ways to raise funds to offset team expenses. When faced with not being able to hold their dinner fundraiser this year, Lora switched gears and held a virtual Purse Bash raising $3,000 for the organization.

Aside from fundraising, Lora also focuses on team building for the kids. She organizes team gatherings and has had them participate in several Beaver County parades.

Whether on or off the ice, Lora is a passionate advocate for special needs children. At New Brighton Elementary School, Lora has been working with the administration to incorporate the acknowledgment of the special days/weeks/months for those with disabilities to ensure the feeling of inclusiveness.

Online, Lora operates a closed Facebook group, Western Pennsylvania Autism Page, to create a community of support for families with special needs children. Lora's goal is to make her local community and the surrounding area a better place to live by creating awareness and acceptance for those with have special needs.

Congratulations to Lora on being named our Hockey Mom winner! Thank you for all that you do for your hockey organization and the community at large.