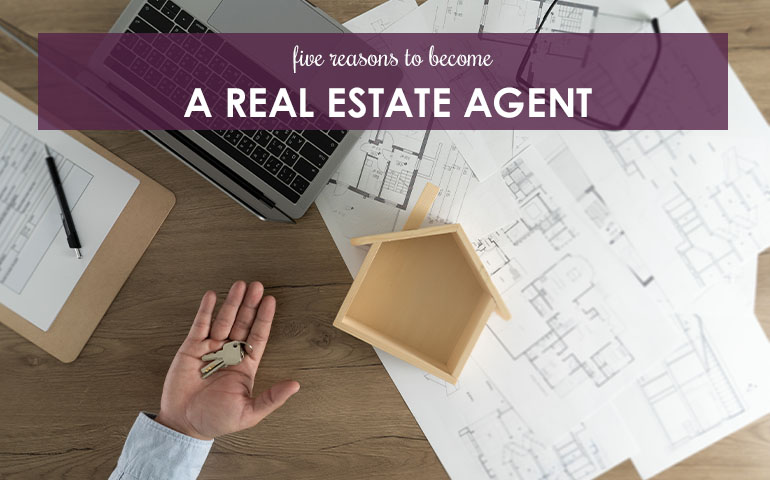 Five Reasons to Become a Real Estate Agent
Are you just starting a career, looking for a career change, or need a change of pace? Have you ever considered becoming a real estate agent? According to Indeed.com, working in real estate sales is one of the best careers to have in 2019. A career in real estate offers limitless opportunities and benefits that a traditional nine-to-five job does not.
Education
Real estate agents typically need a high school diploma or equivalent. However, ambitious real estate professionals who intend to pursue management roles later in their careers generally earn an associate's or bachelor's degree as well. Many real estate agents have degrees in business administration, economics or finance. These majors help aspiring professionals master the basics of business and sales. The good news is if you are looking for a career change, becoming a real estate agent might be the right choice. No matter what your educational background is, is most companies provide the training tools and materials for you to become successful.
Flexibility
Being a real estate agent provides you with a lot of flexibility in your day to day schedule. Unlike most nine to five jobs, most real estate agents are not at their desks all day or even working on the same transaction. Agents' schedules depend on what their clients need from them. When they are not out on a property tour, they are marketing themselves, making connections or planning their next listing. Another great part of being a real estate agent is that your office can be anywhere and you can make your own schedule. If you want to enjoy a three week vacation to Europe, you won't have to worry about not having enough paid time off!
Be Your Own Boss
The growth of your business is in your hands, however big or small you want it to be. Your broker will provide tools and guidance and review your contracts, but for the most part, we provide you the skills and tools to hustle without getting in the way. You decide how many clients or transactions you want to handle, how to market yourself and your listings, and how to serve your clients.
Learning Opportunities
Markets, tastes, trends, demographics and industries are constantly changing. The real estate profession isn't just about real estate. It also involves economics, regulations, construction, design, and marketing. Real Estate Agents are always learning new things and improving their skills and processes. If you enjoy learning and keeping up with trends, becoming an agent might be the right career path for you!
Helping People Find Their Dream Home
The biggest reason why people want to get involved in real estate is to help people find their dream home. From a new couple buying their first house to families buying a vacation home, real estate agents get to help people through each stage in their lives and truly be part of a community. If you get satisfaction from making other people happy, it might be time to make a career change!
Do you think becoming a real estate agent is the right career choice for you? Berkshire Hathaway HomeServices Northwood Realty Services has all the tools to help you succeed. Visit our career page to learn more about becoming a real estate agent.