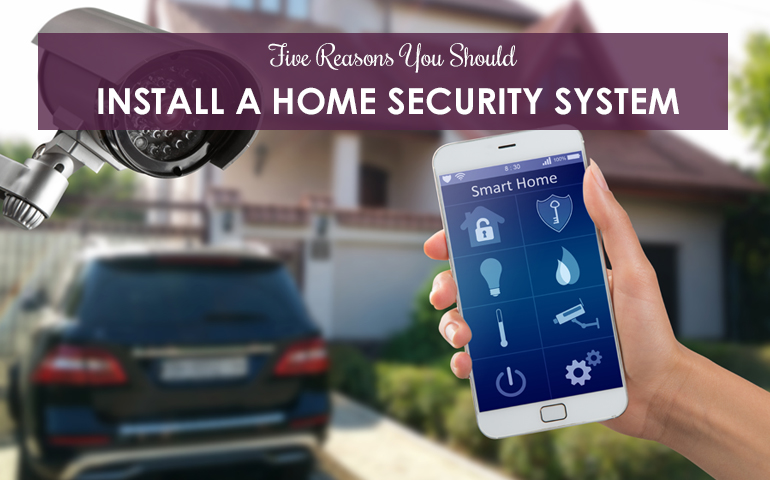 Five Reasons You Should Install A Home Security System
No one imagines they will fall victim to a robbery, break-in or even a natural disaster. In the event that this could happen, you will want to be prepared as possible. Home security systems are a great way for homeowners to protect their homes, valuables and family in case of an emergency.
Protect and Secure Your Home
One of the biggest reasons to consider installing a home security system is to protect your family and secure your home. Home security systems have been linked to an overall lower rate of crime and will make an intruder think twice before entering your home, especially if there is a sign indicating you have a security system. In the event something should happen, having a security system in place often provides family members with enough warning to get to a safe location outside the home while the alarm system dispatches local authorities.
Lower Home Insurance Premiums
You are probably debating if paying a monthly fee on a security system is worth it, but did you know that a security system might lower the cost of your home insurance each month? Some insurance companies will offer discounts on insurance premiums if the home has a security system installed. According to The Insurance Information Institute, a home security system may help you save up to 20 percent on your monthly homeowner's insurance. A home security system may be an investment, but it is one that will pay off in the long run.
Have Someone Else Watch Over Your Home
Another great benefit of a home security system is having someone else watch over your home when you are away or in case of an emergency. Security companies have a team trained specifically to watch the homes in case of an emergency. While you are away, having someone watch over your home will give you the extra peace of mind to enjoy your time away.
Monitor Your Home 24/7
Most modern security systems also allow you to monitor your home through video. By accessing your home security system remotely on the app, you can keep an eye out for intruders, be notified when motion detectors are activated, turn lights on at strategic times to make your home look occupied and save on your electricity and energy bills.
Provide Your Family Peace of Mind
The presence of a home security system provides many families with peace of mind knowing that their home is protected from a variety of devastating scenarios. Whether it is a break-in, a fire, or you just locked yourself out of your home, you won't have to worry about feeling unsafe again.
Whether you are trying to protect your family or get a discount on your homeowner's insurance, getting a home security system installed is a great idea. There are many benefits to purchasing a home security system, from being able to remotely monitor your home to the peace of mind your family gains, you truly cannot go wrong.