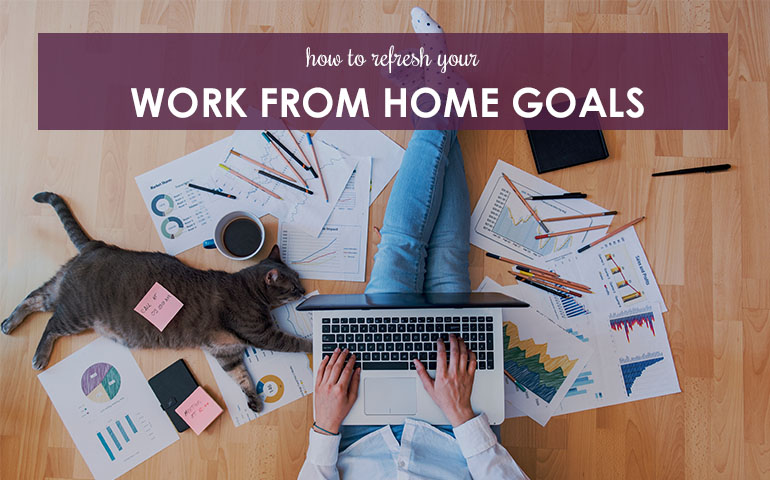 How to Refresh Your Work From Home Goals
We are coming up on eight months of the Coronavirus pandemic and many of us are still working at home. With the New Year's coming up, this is a perfect time to refresh your work from home space, boost productivity, and set new goals. Whether you want to switch up your work area or completely remodel a home office, there are many options to help you refresh your focus.
Add in a Commute
While no one likes sitting in traffic, for most of us the daily commute was a good time to break up the morning. Whether you listened to your weekly podcasts, stopped at your favorite coffee shop, or called your friends, it was a little time in the morning all to yourself. Now that a lot of us are still working from home it can be a good idea to incorporate a new morning "commute" to break up your day!
With a few small tweaks, you can have some of that separation between your morning routine and starting your workday. Try taking a walk with your dog outside before diving into your email or if you can't get outside, listen to the same audiobooks or playlists that you used on your commute while you get dressed to help you feel prepared for the day.
Switch Up Your Space
If you feel like you have been lacking productivity at home recently, it could be a good time to switch up your at-home office space. If your work-from-home arrangements are temporary and a full-on office isn't realistic, try to create a dedicated workspace that allows you to focus while working from home. If you have been working from a bedroom and it isn't working for you, try moving to the kitchen table or another space in your home that could be less distracting. It's also a good practice to work from a table or stand. Working from your bed, in particular, is not a good idea.
Stick to a Routine
Sticking to a routine is important to staying productive while at home. Start with the time you know you're the most productive and focused then establish your work hours around those times, if your company accommodates this type of schedule.
It can also be a good idea to let family members and friends know that even though you're home, you don't have time for unlimited socializing. Instead, chat with them briefly during one of your breaks for a quick boost! Also, you should stay on schedule by truly working the hours you've dedicated to your job. When your work hours are over, close down your laptop for the day to separate work and home!

Limit Media Distractions
Checking out what's happened every time your phone beeps can take your attention away, making you a less productive worker. However, during the pandemic, these constant checks can also make you anxious, which, in turn, can make you lose focus on your work. While you are sitting at your desk, it can be tempting to pick up your phone—especially when it's constantly pushing alerts at you. To stop you from being distracted, set the timer on your phone for 90 minutes, turn off push notifications, and then put it out of sight.

While work from home won't last forever, it's good to set up your space and schedule to be the most productive you can be! Whether you need to implement a new morning routine or just limit distractions on your phone, these small changes will lead to a boost of productivity in the new year!