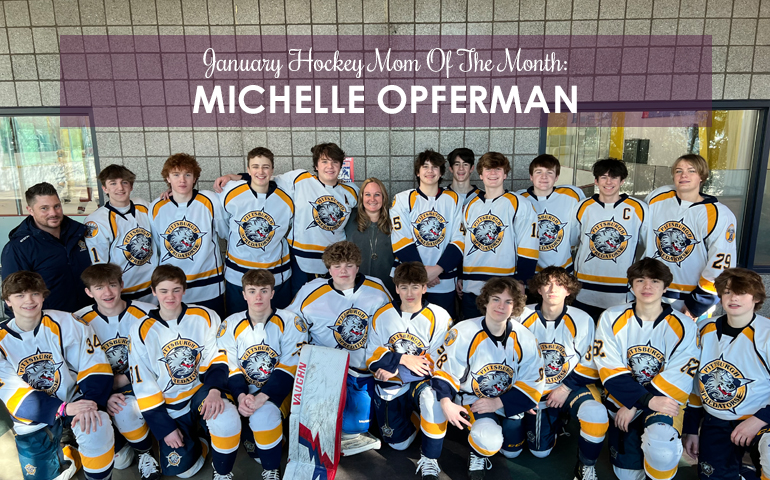 January Hockey Mom Of The Month: Michelle Opferman
We are pleased to announce Michelle Opferman from Mt. Lebanon as the winner of the January Hockey Mom award for the 2022-2023 Pittsburgh Penguin hockey season! Michelle Opferman is a dedicated wife and mother of three children, as well as a vital part of the Chartiers Valley School District, where she serves as Department Chair of Nursing Services. For over 15 years, she has been a hockey mom, managing teams for each of her children -- Jacob, Kailey and Brian -- for the past 12 years, even managing all three teams at the same time.
Currently, Michelle serves as Team Manager for Brian's 15U AAA Pittsburgh Predators travel team and for his Mt. Lebanon Varsity High School team. Additionally, she is a member of the Board of Directors for Mt. Lebanon Ice Hockey, providing her time and resources to support the players and their families. She is responsible for scheduling, team budgets, parent and coach communication, spreadsheets and travel arrangements for out-of-town tournaments. She also serves as an EMT, providing nursing services for games when needed.
In addition to her role as a hockey mom, Michelle works as a Certified School Nurse at Chartiers Valley High School for the past 15 years, supporting students and staff with their health and safety. During the pandemic, she coordinated a COVID-19 vaccine clinic for school employees, securing 120 vaccines from several local pharmacies ( https://www.wtae.com/article/chartiers-valley-school-district-holds-covid19-vaccination-clinic-for-staff/35430193).
In her free time Michelle volunteers at the St. Winifred Church Annual Fish Fry. It is people like her who make our local communities a better place to live.
We are proud to recognize Michelle Opferman for her hard work and dedication to the Mt. Lebanon community, and we congratulate her on winning the January Hockey Mom award for the 2022-2023 Pittsburgh Penguin hockey season! Melissa will be recognized with her family at the Pittsburgh Penguins game at PPG Paints Arena on January 28th.
Do you know an amazing hockey mom? Nominate her to be our next winner at www.PittsburghPenguins.com/HockeyMoms.