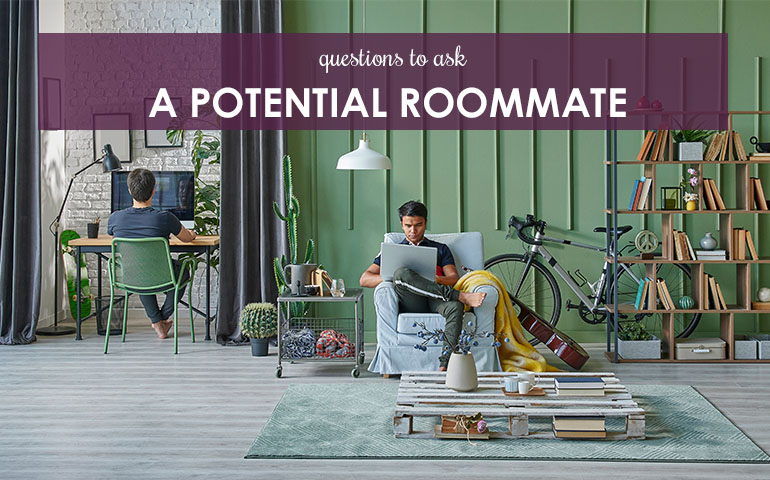 Questions to Ask a Potential Roommate
When you are searching for a roommate, you don't want to be surprised six months from your move-in date when you are starting to have issues. Holding interviews and asking questions can help you avoid any headaches down the road! Before you sign a rental agreement, be sure to ask any potential roommates these questions.
Will they be able to afford the rent each month?
The very first question you want to ask any roommate is if they will be able to pay for their share of the rent, utilities, and any other regular fees. You will need to be as upfront as possible with them about all of the costs. If they do not have a reliable source of income, you may need to stop asking questions and move on.
Will you be sharing groceries or keeping things separate?
When you are living with a roommate, it's good to have a plan of what and what you won't share when you are living together. It's easy to share things like paper towels and cleaning supplies, but if you don't want to share your food you should make that clear in your interview process.
What are their living habits like?
Before you have someone move into your home, you will want to make sure that their habits align with yours. If you are a really clean person, express to them how you expect the space to be kept.
Are they okay with pets in the apartment?
Pets are a great source of comfort and companionship for a lot of people. If you already have a pet, this is a very important question! Even if there's not a pet in the equation right now, a possibility for adoption may arise down the road. Make sure you discuss the topic of pets prior to moving forward with a roommate to avoid conflict. You'll also want to make sure that pets are allowed in your apartment or house if you are renting. Ask the landlord first before adoption!
How often will they be home?
Sometimes you need the apartment to yourself, even if it's only for an hour. This is especially important to consider if you and your potential roommate are both working from home. Living with a roommate who spends a majority of their day at home may keep you from this need, which can lead to roommate issues. Even asking the person to describe themselves as either a homebody or night owl can tell you everything you need to know!
Are they a morning or a night person?
If you know that you need to be in bed by 9 p.m. most nights, but your roommate is often up until midnight, you could face a few problems in the mornings and evenings. You wouldn't The living arrangement could still work, but this is something you'll want to know before your alarm clock goes off.
What do they like to do for fun?
Whether you're looking for a new best friend in your next roommate or not, you're likely to spend some of your free time together. Maybe you and your new roommate will be able to catch up on a favorite TV show together—or maybe you can teach each other something new.
The bottom line when it comes to looking for a roommate? Find someone with similar views on the things that matter most to you. Beyond that, let a person's differences teach you something new. Best of luck in your search for a roommate!