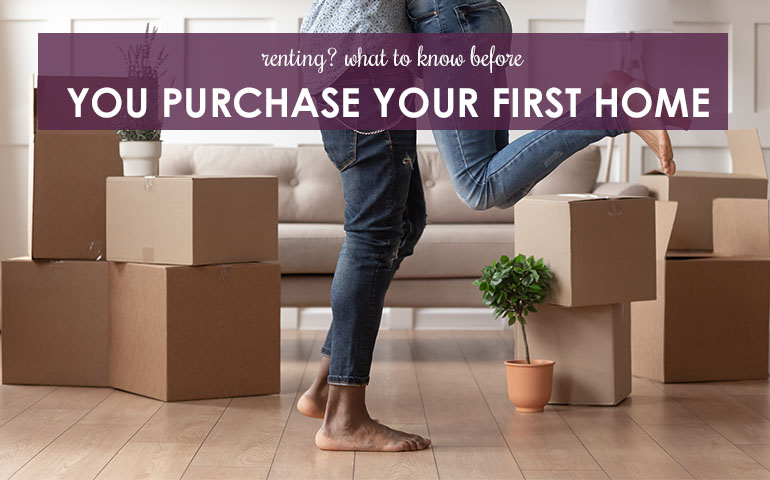 Renting? What to Know Before You Purchase Your First Home
Renting is popular for many reasons: convenience, no down payment, and no commitment to a specific location. All of these factors are great, but if you are starting to think about planting roots somewhere it might be time to purchase a home! Before you take the big leap into homeownership check out these tips to make your first home buying experience go smoothly.
Start Budgeting
The very first step every renter should take when entering the market is to figure out your finances. Buying a new home requires a mortgage, where a lender fronts you the money and you pay it back over time.
In order to acquire a mortgage, you will need a down payment. Saving for a down payment is a big part of purchasing your first home. Although it is common to put 20% down on a house, if you are a first-time homebuyer, you may qualify to put down as little as 3%. But putting down less than 20% may mean higher costs and paying for mortgage insurance (PMI), and even a small down payment can still be hefty. For example, a 5% down payment on a $200,000 home is still $10,000. The good news is once you hit your 20% down payment, you no longer have to pay the PMI. You will also want to account for any closing costs and moving expenses.
For more information on obtaining a mortgage, check out this blog!
Get Pre-approved
One of the most important steps before you start your home search is to get pre-approved. Even if you've crunched the numbers yourself, it is a good idea to meet with your lender, lay out all your finances, and determine what you can really afford. This will save you time, energy, and potential disappointment if you find out you're home-shopping at too high of a price point before you make your offer. Instead of worrying over the state of your finances, you'll have peace of mind knowing you're already approved. Put that energy toward worrying about how friendly the neighbors seem, or deciding whether or not you need that extra bedroom or updated kitchen!
Start Your Home Search
Now it's time for the fun part! As a home buyer, the home search process can be slightly overwhelming so you'll want to ask your real estate agent for guidance and help setting up showings. You will also want to make a list of all the things you picture being in your home. It's best to separate your must-haves from those features you'd like, but don't really need.
Research Where You Want to Buy
Buying a home means staying in the same place for a while. When you are starting your home search, you will want to take a look at the area before you take the big leap. If living near a grocery store, school or work is important to you, focus your search within a comfortable distance from those locations. Or if you are planning to start a family in your new home you will want to take a look at the schools in your area. These are also all things that you can discuss with your real estate agent. They will be able to guide you through the decision-making process and offer advice on the areas you are looking around.
Now that you have decided you want to lay down roots and purchase a home, it's time to find a real estate agent. There are plenty of agents at Berkshire Hathaway HomeServices Stouffer Realty that specializes in first-time home buyers. To find your perfect match, don't hesitate to reach out!