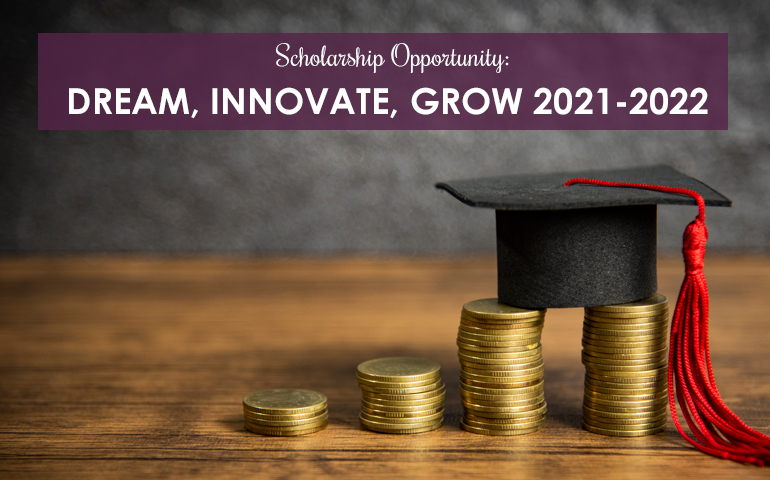 Scholarship Opportunity Dream, Innovate, Grow 2021-2022 Program
Are you or someone you know planning on attending college in the fall? If so, now is the time to be applying for scholarships! Finding scholarships to apply for can be overwhelming, but we will make it easy for you by introducing our Dream, Innovate, Grow Scholarship.
Each year, Berkshire Hathaway HomeServices Stouffer Realty hosts a scholarship program, open to all high school students in the area who are planning to attend a technical school or college this fall. The Dream, Innovate, Grow scholarship is inspired by the key beliefs and attributes Berkshire Hathaway HomeServices Stouffer Realty has been built on. The recipients who will be chosen also embrace these ideals both personally and academically.
Each year, three deserving high school students in our sales footprint will be selected to win a scholarship valued at $4,000 ($1,000 for up to 4 years) . These winners will be selected by a committee composed of Berkshire Hathaway HomeServices The Preferred Realty's employees and salespersons.
To be eligible for the Dream, Innovate, Grow Scholarship program, students should excel academically and have an overall grade point average of a 3.0. The students should also perform with distinction in terms of leadership, volunteerism, character, and have a positive attitude. They should also serve as an example to fellow students as a participant in the community, charitable organizations, and other school activities.
Let's take a look at last year's recipients!
Molly McCommons
Molly attended Lincoln Jr/Sr High School in Ellwood City, PA. During her high school years she held many leadership positions such as the President of the National Honor Society, the Peer Leadership Council and the International Club and was a founding member of the high school Mock Trial club. Her legacy at Lincoln will be the KidsToo organization, to give abuse survivors a voice in the court system. Molly is now a student at Grove City College studying History & Political Science while on the Pre-Law Tract.
Ayesha Qureshi
Ayesha attended Green High School in Ohio and stayed in Ohio to attend the University of Akron majoring in Biomedical Sciences in hopes of pursuing a Dental Career. Her list of school activities and community service hours was endless & diversified. She spearheaded a dance with her Student Council for special needs students that had attendees from as far away as Cleveland. Ayesha's Girls Scouts Gold Project was extremely innovative and very impactful as she solved a problem in her religious community. She was also one of a handful of high school students selected to be part of the Mayor's private council where students met with the Mayor and discussed current legislation and community issues that needed to be solved.
King James Creer IV
King attended Maple Heights High School in Ohio. King is currently a student at Washington University in St. Louis studying Computer Engineering. King has worked tirelessly to improve his chances of success by not only holding down a job while in high school, but by working on earning a Google IT Support job certification, taking online courses from Harvard, and attending 8-weeks of school during the summer to earn college credit. King had a dream and because of his dedication and hard work he was able to persevere and reach his ultimate goal of becoming the first in his family to attend college.
All completed applications must be returned by the deadline of March 1st, 2022. For more questions about the Dream, Innovate, Grow Scholarship and to submit your application, please email Scholarships@TPRSold.com.
We are proud to host the Dream, Innovate, Grow Scholarship competition each year and look forward to hearing from this year's applicants.