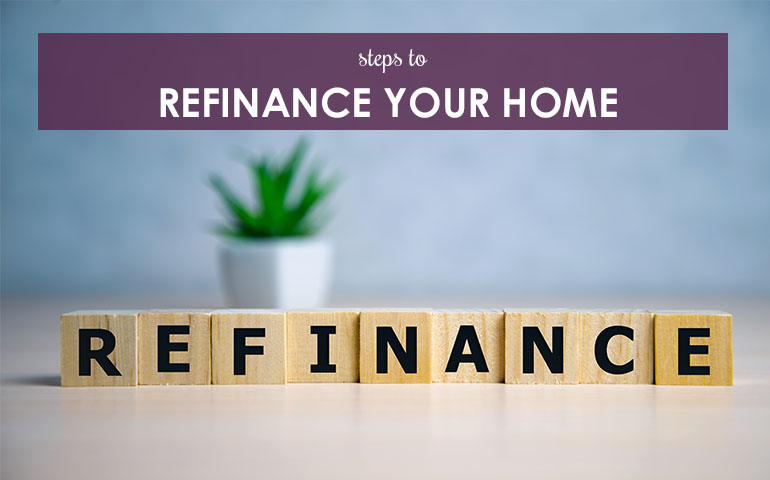 Steps To Refinance Your Home
Have you been looking for options to improve your mortgage rate? Refinancing your home might be a good option. Refinancing is the process of replacing an existing mortgage with a new loan. Typically, people refinance their mortgage in order to reduce their monthly payments, lower their interest rate, or change their loan program from an adjustable-rate mortgage to a fixed-rate mortgage. If you think refinancing might be a good idea for your finances, follow these steps!
Set Your Goals
There are a number of different reasons why people would want to refinance their home. Whether you want to reduce your monthly payments, pay off your loan faster, or even get a cash-out loan there are several ways you can accomplish your goals. One of the first steps in refinancing your home is to sit down and figure out why you want to refinance and set your goals to accomplish it.
Know When You Should Refinance
Knowing when to refinance depends on the goals you set for yourself. Now could be the right time since the current interest rates are at an all-time low. If you're planning to move in a few years, it's likely that a refinance won't make sense, since you won't have enough time with the better terms of the new mortgage to offset the closing costs. But if you're staying put in your house for the long haul and can get an interest rate that's significantly lower than your current mortgage, then there's a good chance refinancing will ultimately save you money.
Look Into Lenders
You will want to shop around for different refinancing options just like you did when first obtaining your mortgage. You will want to make sure that you know all your options and are able to get the best possible deal when refinancing your home.
Have the Necessary Information
When you are ready to refinance, you will need to provide some paperwork for the lenders to start the process. Most lenders will require the following information:
Current month's pay stubs

W-2s for the last two years

Names and phone numbers of employers for the last two years

Current two months' bank statements

Current mortgage statement

Current homeowners policy with contact information

Current property tax statement
Understanding the basics will help you make the best decision on whether a refinance makes sense for you. You'll want to not only look at the current interest rates and closing costs, but also think about your personal situation and your financial goals. If you need advice, check out our mortgage center to help you in the process!